If you haven't started growing radishes in your Rise Garden, here's your sign it's time to grow root veggies in your smart Garden. With only 5 ingredients, this recipe is easy to make and perfect for your Easter dinners. Radishes grow quickly and you typically can harvest them from seed in about three weeks. While we love radishes in salads, we crave these roasted radishes and this recipe really showcases your homegrown veggies and herbs.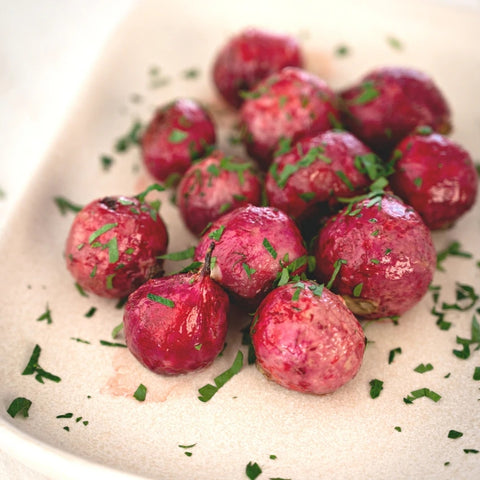 Roasted Easter Egg Radishes
Prep Time 5 mins
Cook Time 20 mins
Total Time 25 mins
Serves 2-4p
Ingredients
12 radishes, washed and trimmed

2 tsp olive oil

½ tsp salt

Juice of ¼ lemon

1 tbsp chopped fresh parsley
Instructions
Step One: Preheat the oven to 400F and wash radishes.
Step Two: Toss the radishes in olive oil and salt, and place in a small baking dish.
Step Three: Bake for 20-25 minutes, until roasted, but not soft. You want your radishes to still have a crunch!
Step Four: Squeeze lemon juice on top and sprinkle with chopped parsley. Toss to coat.
Step Five: Enjoy as a side with your Easter meal! 
Recipe created by Kelsey Steeves.