Indoor Garden Extension
Starter Bundle
This extension is for the original Family Garden and is not compatible with The New Rise Garden. To purchase an extension for The New Rise Garden,
click here.
Expand your beautiful indoor garden with an additional level by adding our 13 5/8" Family Garden Extension for quick growing produce. With over 60+ varieties of herbs, veggies, lettuce & more! Family Garden Extension can be added to any Family Garden for up to 3 total levels. Base garden sold separately.
Ships in 1-2 weeks

1yr warranty

90 day return
Over $100 in seeds and supplies included.
Select any item for more information
Seeds

You'll get a mix variety of herbs and greens, enough to fill your garden for the first month. 8x Lettuce mix, 2x Basil, 2x Cilantro, 2x Parsely, 1x Celery, 1x Chive.

Our plant pods are made from organic peat moss and coco coir and provide the perfect blend of air, organic matter and water. Our seeds are selected to give you the best hydroponic growing experience possible. Each variety is tested for hydroponic success.

*Seed pod variety may change due to availability.

Supplies

You'll get 12x net cups, 3x 4-pod trays and one month's worth of hydroponic nutrients: 1 starter-size bottle of Sprout, 1 starter-size bottle of Thrive, 1 starter-size bottle of pH Balance.
As plants grow in your garden, they'll need different amounts of micro and macronutrients. We provide you a starter kit with everything your plants need in every stage of their first 30 days. pH Balance will allow you to keep water pH in the right range.

All Rise Gardens come with a 3-year warranty for hardware components and 1-year warranty on electronic components.

Nursery Pack

Extension Garden comes with 1 Rise Gardens Nursery.
The Rise Gardens Nursery allows seeds to grow big and strong in the early stages of life, which sets the trajectory for the rest of the plant's growth and yield.

The 4 pod capacity ensures staggered growing in order to maximize garden yields & continuous harvesting.

App

Black thumbs are a thing of the past. Everyone has a green thumb thanks to the Rise Garden and our SmartCare technology.

The Rise Gardens App will remind you when to water, add nutrients and harvest your plants. It's your personal gardening expert, guiding you every step of the way.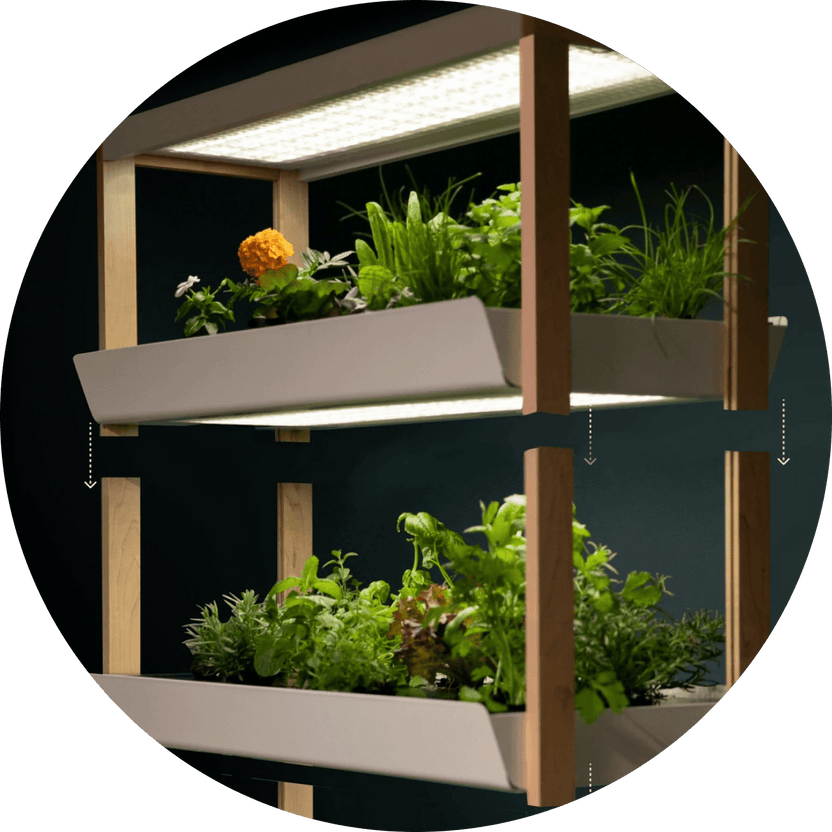 Add Up To 3 Levels per Indoor Garden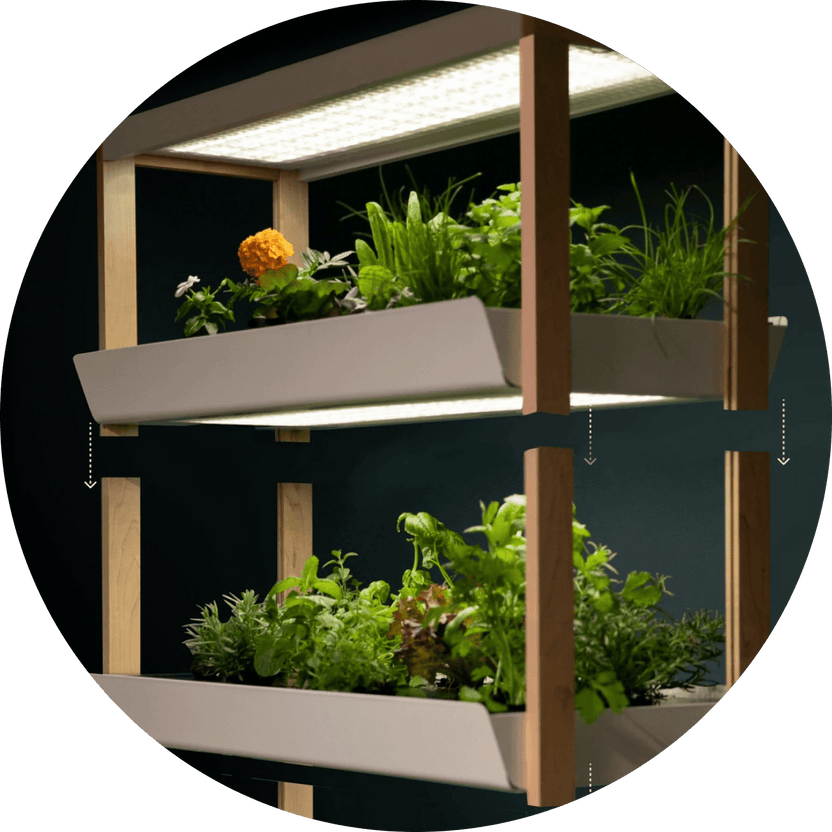 Keep your plants and your pocket happy with our nutrient box subscription. Save 50% on your first year!
Frequently Asked Questions
Our smart app will guide so you know when and how much nutrients to add. Ph balance and Thrive will be added weekly. Blossom and sprout will only be used for fruited veggies.

No. You will need a single or Double Indoor Garden to connect the extension.

A Family garden extension allows you to grow 12 seed pods out of the box and to expand to a maximum of 36 seed pods at a time by adding 12 pod trays.

No matter your expertise level, or what you're looking to grow. We have an indoor garden that is perfect for you! Now you can grow your favorite herbs and veggies year round!

TIt takes around 20 minutes to add a garden extension. You will find detailed instructions on our help center.

You get 16 seed pods of assorted Lettuce and Herb varieties. We offer a wide variety of flowers, greens, fruited veggies and microgreens to grow in our garden. We also offer empty seed pods for curious gardners that want to grow other varieties. You should know we guarantee perfect sprout for Rise Gardens Seed Pods but we cant ensure anything else will grow as good. Remember to use Rise Gardens Nutrients for optimal growth use our nutrients.