The holidays can be a stressful time of year but your Rise Garden and plants are here to help. We have four easy ways to de-stress with the help of your Garden.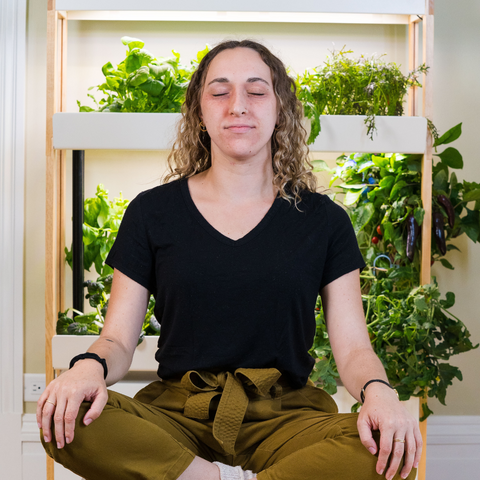 Participate in a 5-minute meditation by your Garden
Taking a few moments to breathe and clear your head can do wonders for your mental and physical health. Use your favorite guided meditation, head to our Instagram page to use one of our themed meditations, or simply sit and breathe for a few minutes while you observe your plants.
Take a yoga class by your Garden
Yoga is a great way to de-stress and move your body--especially during the winter months when we are all cooped up inside. Take the class or do a few yoga poses by your Rise Garden for a little extra zen.
Drink your morning coffee or tea by the Garden
Studies have shown that being near plants can help alleviate stress. Take small breaks to visit or sit by your garden throughout the day for moments of peace. Every little bit helps keep your stress levels down. Even starting your day by your garden with your morning coffee or tea can set you up for success. 
Make your own calming lavender + chamomile tea
Lavender and chamomile are two natural ingredients that help alleviate stress and they can both be grown in your Rise Garden. Once they are ready to harvest (even the stems and leaves), they can be steeped for a natural calming tea.