On Wildly Delicious Season 2 Episode 3, we teamed up with RG Ambassador Kelsey Steeves to make this delicious One Pot Chickpea Kale Soup! It's a healthy vegetarian recipe perfect for those weeknight dinners. It only takes 20 minutes to make using pantry staples, and kale and parsley from your Rise Garden. Of course, if you prefer to keep this recipe vegan, use a vegan or plant-based parmesan cheese!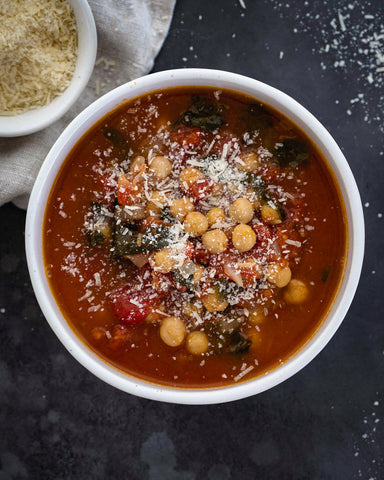 25-Minute One Pot Chickpea Kale Soup
Prep Time 5 mins
Cook Time 20 mins
Total Time 25 mins
Serves 6p
Ingredients
1 onion

4 garlic cloves (large)

~ 6 sprigs of parsley

2 26 or 28 oz cans diced tomatoes

32 oz vegetable or chicken stock (1 full carton)

2 19 oz cans chickpeas, rinsed and drained

8-10 kale leaves

Parmesan, rind & for garnish

1 tbsp olive oil

Salt & pepper, to taste

Directions
Step One: Chop the onion and finely mince the garlic. Remove the parsley leaves from the stems and set aside, then finely mince the parsley stems.
Step Two: Heat the olive oil in a large pot over medium-high heat, then add the onions, garlic, and parsley stems. Season with 1 tsp each of salt and freshly cracked black pepper. Cook until onions are translucent, about 3-4 minutes.
Step Three: Add diced tomatoes, stock, and a parmesan rind, then bring to a boil. Cook, covered, for about 5 minutes.
Step Four: Meanwhile, remove the kale leaves from the stems and discard the stems. Roughly chop the kale and set aside. Do the same with the parsley leaves from earlier. 
Step Five: Next, add the rinsed and drained chickpeas to the pot and cook for another 5 minutes. 
Step Six: Add the chopped kale and season with more salt and pepper, to taste. 
Step Seven: Ladle into soup bowls and garnish with fresh parsley and Parmesan.
Recipe by: RG Ambassador Kelsey Steeves. Find more recipes and work from Kelsey here.