Wildly Delicious Episode 5: Veggie Pot Pie
Its cozy season and we're using fresh ingredients from our Rise Garden to make delicious, homemade veggie pot pie. On Episode 5 of our IG Live cooking show, Wildly Delicious, we were joined by RG Ambassador Kelsey Steeves to make our childhood favorite: vegetable pot pies. Veggie pot pie is actually pretty simple to make. It only requires chopping a bunch of veggies and herbs and then making the mixture and baking the savory pie! Plus, when you grow your own food with a Rise Garden, you get the freshest, best tasting ingredients that add extra flavor and depth to any recipe.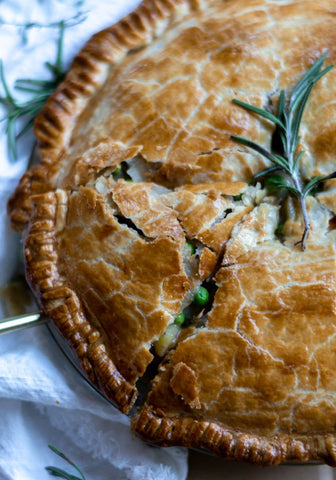 Veggie Pot Pie Recipe
Makes 2 pot pies
Prep Time

30min

Cook Time

40min

Total Time

110m

Serves

4p
Ingredients
2 tbsp butter

2 bulbs of fennel or celery, finely chopped, about 4 cups

3 medium carrots, finely chopped, about 1 cup

1 large onion, finely chopped

1 tbsp rosemary, minced
1 tbsp summer thyme

6 cups mushrooms, sliced

4 small potatoes, peeled and cubed small, about 3 cups

¼ cup all-purpose flour

1 cup milk of choice

1 cup broth

2 cups frozen green peas

Juice of ½ lemon

2 frozen pie shells/dough, thawed

1 egg, yolk only

Salt & pepper, to taste
Directions
Step One: Heat oven to 400F. 
Step Two: Over medium heat, melt the butter in a large pot. Once melted, add the fennel or celery, carrots, onion, rosemary, and thyme. Cook until onions are translucent and the other vegetables are soft.
Step Three: Add the mushrooms and potatoes and stir to mix. Season with salt and pepper, and cook for about 6-8 minutes, or until mushrooms have shrunken and potatoes have begun to soften. 
Step Four: Sprinkle flour over vegetables and stir to coat. Cook for 1-2 minutes, until the flour no longer tastes raw. 
Step Five: Slowly add the milk and the broth, stirring until the mixture is smooth. Bring to a simmer and cook for 5-6 minutes, or until the mixture has thickened. 
Step Six: Next, add the peas, lemon juice, and more salt and pepper if needed. Stir to combine. 
Step Seven: Pour mixture into a 9" baking dish. 
Step Eight: Roll out pie dough and place over the vegetable mixture. Seal to the sides to prevent over spilling! 
Step Nine: Whisk egg yolk with a pinch of salt, and brush over top of the raw pie dough. Cut slits in the top to allow for air flow. Cover with aluminum.  
Step Ten: Place the baking dish on a baking sheet and bake for 20 minutes, covered. Remove aluminum and bake for another 20 minutes. Let it sit for a few minutes before serving to allow the pie to set, and enjoy!
Step Eleven: Repeat Steps 7 + 8 in a freezer proof dish and put the second pot pie in the freezer for later!*
*From the freezer, let the pot pie partially thaw and then complete steps 9 + 10. 
Recipe from: RG Ambassador Kelsey Steeves.