Enjoy fresh fall veggies and herbs with this roasted carrot and sage soup recipe. It's creamy without all that dairy!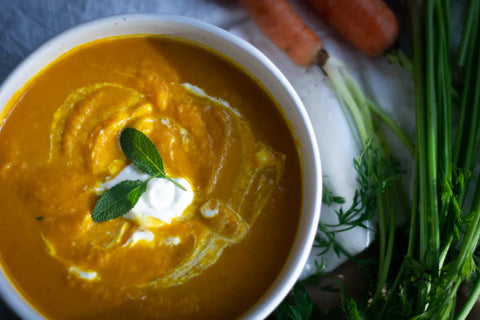 Happy first day of fall! Our indoor gardens are still growing strong. So, we've harvested some fresh sage and picked up some delicious carrots and made this incredible fall soup. 
This fall soup is the ultimate fall recipe because the main ingredients can be easily swapped for other fall veggies. If you want to try something different, swap the carrots for butternut squash, acorn squash, or sweet potatoes. You can also use a mixture of them. 
You can keep the soup vegan by simply skipping the butter or using vegan butter and making sure your topping options are dairy-free like sage or chives.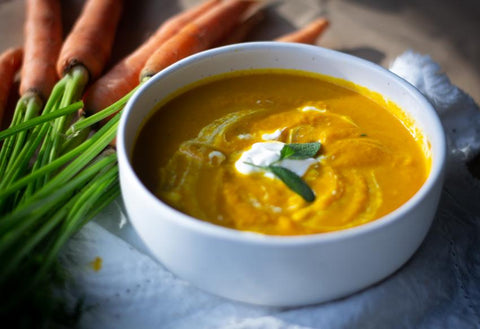 Roasted Carrot and Sage Soup
Prep Time 15 mins
Cook Time 45 mins
Total Time 1 hr
Serves 4-6p
Ingredients
3 lbs carrots, washed or peeled
1 yellow onion, roughly chopped
3 cloves garlic, roughly chopped
1 tbsp ginger, minced (½ tsp dried ground)
10 sage leaves, minced
½ tsp ground coriander
½ tsp ground cumin
7 cups water (or 7 cups of vegetable broth)
3 tbsp vegetable bouillon (omit if using vegetable broth instead of water)
2-3 tbsp olive oil
2 tbsp butter
Juice of ½ lemon
Freshly ground black pepper, to taste
Parmesan, grated, to garnish
Directions
Step 1: Preheat the oven to 400F.
Step 2: Cut carrots into ¼" thick pieces and place them on a parchment paper lined baking sheet. Toss the carrots in a drizzle of olive oil and pinch of salt and arrange in a single layer.
Step 3: Roast the carrots for 25-30 minutes (tossing halfway), or until they are soft in the middle and caramelized on the outside.
Step 4: In a large pot, warm 1 tbsp olive oil over medium heat. Add the onion and a pinch of salt. Cook until the onion is softened and translucent, stirring occasionally (about 5 minutes).
Step 5: Add the garlic, ginger, sage, coriander, and cumin. Cook until fragrant while stirring constantly, about 1 minute.
Step 6: Combine the vegetable bouillon with 1 cup of water until completely dissolved. Pour the remaining water into the soup pot along with the bouillon mix.
Step 7: Add the roasted carrots to the pot and bring the mixture to a boil over high heat. Optional: simmer for 15-20 minutes on low heat.
Step 8: Turn off the heat and add the butter, lemon juice, and freshly cracked pepper. In small batches, blend the soup in a stand blender on high. Be careful not to overfill the blender and take caution when removing the lid! If you prefer, feel free to use an immersion blender. *Note: you'll get a creamier soup by using a stand blender rather than an immersion blender.
Step 9: Enjoy! Top with freshly grated Parmesan. Feel free to add your other favorite soup toppings, like fresh chives, a dollop of sour cream, or a few croutons!
Recipe created by RG Ambassador Kelsey Steeves. You can see more of her work here.