Happy New Year! It's 2022 and we've checked out all of the new food and drink trends for the year—and we're excited to try them all out. Growing your own food is always in style but we've found a few trends that we love. Below we've rounded up a few of our favorite 2022 food and drink trends and how your Rise Garden can help try them out this year.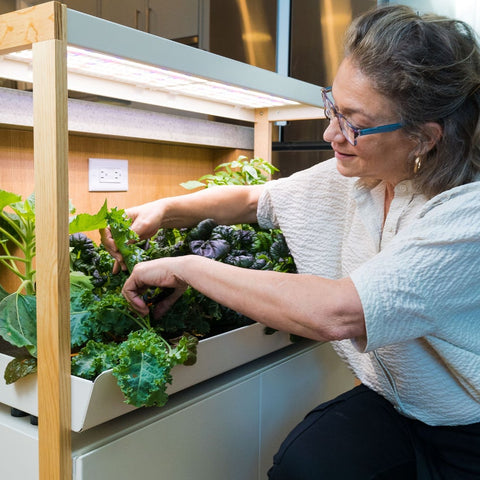 Eating a Plant-Based or Plant-Forward Diet
Plant-based diets have become very trendy with even major food chains joining in with plant-based menu options. Going fully plant-based may be intimidating but we recommend starting by adding more vegetables to your diet. Adding more foods are easier than removing them. Having a Rise Garden in your home is the perfect way to start eating a more plant-forward diet. Once you have a garden growing delicious greens and veggies right in your home, it will be easier to incorporate vegetables in your meals.
Mushrooms
Mushrooms are all the rage this year. If you are interested in growing mushrooms, the cabinet at the bottom of your Family Rise Garden is the perfect place to grow them! Grab a small grow kit from a local or online retailer and get started on plant-based trend ASAP.
Globally-Inspired Food
One of the big 2022 food trends is globally-inspired food and we couldn't be more excited! We've already introduced many different seed pod varieties to help with your globally-inspired recipes. You can view our full seed pod library here. Over the course of 2022, we'll be introducing even more. Having a Rise Garden allows you to grow veggies, greens, and herbs that you wouldn't normally have access to from a local grocery store. Plus, if we don't offer a seed variety, we offer seedless pods that allow you to grow your own plants as well!
Non-Alcoholic Drinks
Our Cocktail Herb Garden and fresh herbs will kick up the flavor for any cocktail whether it's a traditional drink or a non-alcoholic drink. Use fresh herbs to make flavorful simple syrups, freeze herbs in ice cubes, and snip fresh herbs for garnishes. You'll be a master home mixologist in no time!
Hosting Dinner Parties and At-Home Gatherings 
One of the trends being predicted for 2022 is the resurgence of the dinner party. Hopefully, we'll be able to gather with family and friends and hosting at home is a safer way to see those near and dear to you (according to experts). Growing fresh herbs and greens will make it easy to whip up dips, salads, sauces, dressings, and more for your parties. Veggies like tomatoes, celery and bite-sized peppers are all perfect for a wide variety of appetizer recipes, salsas, and more!