Our favorite new seasonal recipe is here: Herbed Ricotta Bruschetta! Rise Gardens customer and food photographer/blogger Kelsey Steeves created this delicious recipe using fresh herbs and greens from her garden. It's perfect for a party appetizer or a side dish paired with a dinner salad.
This recipe is very easy to make, delicious, and full of fresh flavors. Head over to our Instagram to find our video where Kelsey demonstrates how easy it is to elevate recipes like homemade ricotta and bruschetta!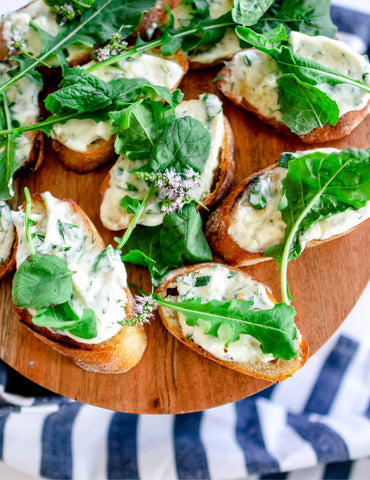 Rise Gardens Herbed Ricotta Bruschetta Recipe
By: Kelsey Steeves
Prep Time

3hrs 15 min. Mostly inactive

Cook Time

10 min

Total Time

Serves

4-8p
Ingredients:
Homemade Lemon Ricotta Recipe
4 cups whole milk
2 cups heavy cream
1 tsp kosher sal
3 tbsp lemon juice
Instructions:
Bring the whole milk, heavy cream, and kosher salt to a boil over medium heat. Once it begins to boil, remove from heat and lemon juice. Allow it to sit for 1 minute or until milk begins to curdle. Line a sieve with a double-layered cheesecloth and place it onto a deep bowl. Then, pour the curdled mixture into the cheesecloth to strain. Allow it to drain for a minimum of 3 hours*. Discard the remaining liquid. Now, it's time to make the bruschetta.
Bruschetta Recipe
Ingredients
1.5 cups ricotta (homemade or store-bought)
6 tbsp freshly chopped herbs* (2 tbsp each of chives, dill, and parsley)
Freshly cracked pepper
1 French baguette
2 tbsp honey, to drizzle (add more, if needed)
To Garnish: fresh arugula and mint
Instructions
Mix together the ricotta, freshly chopped herbs, and freshly cracked pepper. Set aside. Slice baguette into 1/2" slices. Heat up your grill to quickly crisp the bread. Grill for 1-2 minutes on each side. Keep an eye on them so they don't burn and keep them on longer if you prefer them even crispier. Remove the finished bread from the grill when it reaches your desired crispiness and place them on a plate for assembly. Spread approximately 1 tbsp of ricotta on to each slice of baguette. Drizzle honey overtop of each baguette and finish with one leaf of both arugula and peppermint on top. Enjoy!
---
Notes:
The ricotta cheese will continue to harden the larger it strains.
Feel free to use a grill, cast iron pan, or your oven. Cook times will vary.
The great thing about this recipe is that you can use ANY herbs you have on hand! Basil, cilantro, anything you want!
Select a plate to drizzle the honey onto the bruschetta that's different from the serving platter or plate. Honey can be messy!