Kale is a tough but versatile green! Soften up the kale by grilling it! The crunchy grilled pieces add phenomenal texture to this kale caesar salad. Plus, we've whipped up a delicious anchovy-free caesar dressing.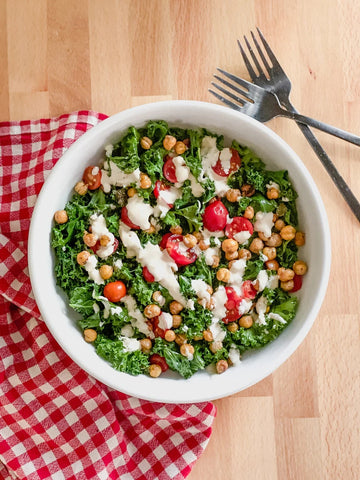 Grilled Kale Caesar Salad
Prep Time

10mins

Cook Time

5mins

Total Time

15mins

Serves

2p
Ingredients
1 head Starbor Kale (curly kale)

2 tbsp olive oil

1/4 tsp salt

1/4 tsp black pepper

1 cup cherry tomatoes, halved

1 cup crispy chickpeas

1 large avocado, sliced (optional)
Crispy Chickpeas
1.5 cups cooked chickpeas, drained and rinsed
1 1/2 tsp olive oil
1/4 tsp salt
1/4 tsp black pepper
Caesar Dressing ( without anchovies)
1 cup mayo
1/2 cup shredded parmesan
2 tsp Worcestershire sauce
1 tbsp white vinegar
2 tsp dijon mustard
2 cloves garlic, chopped
1/4 tsp black pepper
Juice from half a lemon
2 tbsp olive oil
Directions
Chickpeas
Step One: Pre-heat oven to 425 degrees F. Drain and rinse chickpeas and place them on a paper towel. Pat dry.
Step Two: Add chickpeas to a bowl, toss with olive oil, salt, and pepper.
Step Three: Place on a baking sheet in a single layer and bake for 30 minutes, tossing midway through. Let cool.

Salad dressing
Step One: In a food processor, add all of the ingredients except for the olive oil.
Step Two: Puree the ingredients. Slowly add half of the olive oil as it purees.
Step Three: Taste it. Add the second tbsp olive oil if the dressing is still too thick. Add to salad when ready.

Salad
Step One: Pre-heat your grill on high.
Step Two: Drizzle kale with one tablespoon of olive oil and massage the leaves. Place the kale on the grill with fluffier leaves (front side) side down. Grill for 1-2 minutes until the leaves are charred. Flip and grill for an additional minute. Remove the kale from the grill.
Step Three: Once the leaves are not too hot to touch, remove the leaves from stem. Add to a bowl, toss with dressing, and add chickpeas and tomatoes. Add avocado if desired. Serve and enjoy!