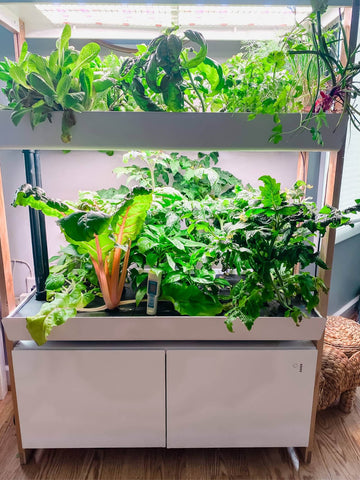 If you have ever tried to grow vegetables and herbs inside your apartment or home, then you know that it can become unsightly. I live in Chicago and I have exactly one window that gets enough light to support my plant obsession. So, I bought a small table and crammed every pot I could on that table for any chance of survival. It also happens to be the window in my entryway area so it's the first thing I see when I come in and the first thing any of my guests see (when we had guests pre-March). Frankly, it's an eyesore and adding more plants is unrealistic. Of course, if you are following along then you know that outdoor gardening doesn't work for me either.
Then, I discovered Rise Gardens. The hydroponic smart garden is gorgeous. It's built with wood and metal and it's gorgeous to look at on its own. When you fill it with vegetables, herbs, and greens it's so lush and beautiful. Prior to discovering the garden, I had been in search of some type of entryway table. I found something from West Elm that I thought might work but I wasn't sold on it so it lingered in my cart for far too long, which means that the only thing in my entryway was that small table with all the plants. Chic, right? So, when I received the two-level garden, it was perfectly sized for that space. I can place a few pieces of home décor on top and it's a gorgeous addition to my foyer and about the same price. Now, it's conversation starter and several people who are looking to lease my apartment when I move at the end of the month really want one.
With the Rise Garden I was able to replace my hobby of outdoor gardening with indoor gardening and have a gorgeous, functional entryway table. One of the great functions of our indoor garden is that it's pretty enough to fit anywhere in your home. If you follow us on social media, you might have already seen some of the places where customers are putting their indoor gardens.
A Rise Garden can go where ever you have the space in your apartment, condo, townhome, or house. And, it will look amazing while serving up delicious, nutritious veggies, greens, and herbs.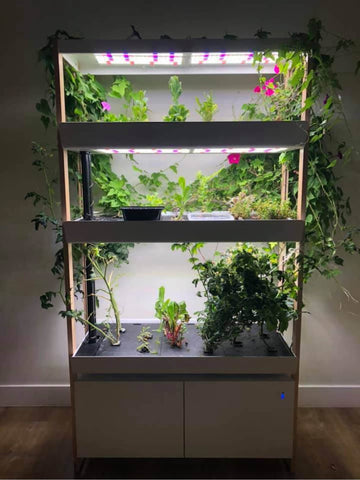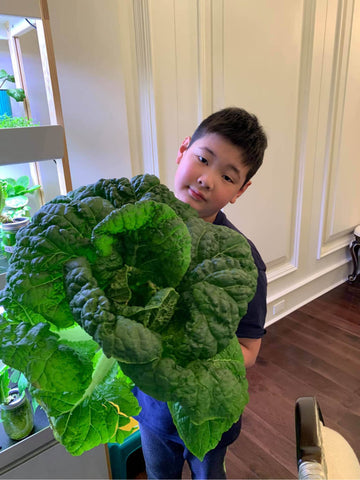 Some of these places include:
In the dining room instead of a buffet
In the living room next to the couch to accent the living room furniture
At the end of the cabinet space in the kitchen
In the home office for the perfect work-from-home environment
Replacing bookcases with multiple one-level gardens
And so many more.
It can legitimately go where ever you have the space in your apartment, condo, townhome, or house. You don't need a lot of space either. The indoor garden, depending on how many levels you choose, is about the size of a bookcase or entry way table. It's very versatile and it's something you actually want to have in your home—not something that you have to shove into a room no one goes into. Plus, not many of have that type of space either!
Your Rise Garden will serve as a hobby, food source, home décor, and functional furniture so get started with your indoor gardening adventure today.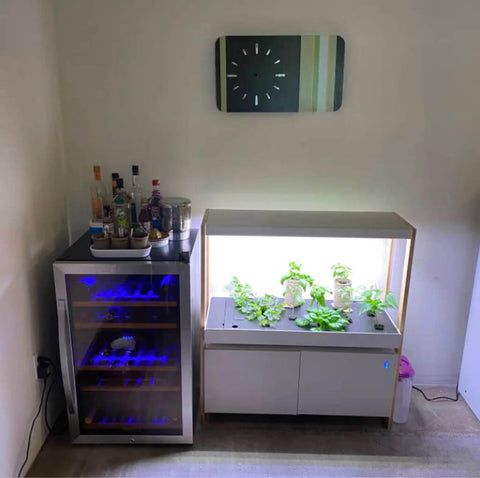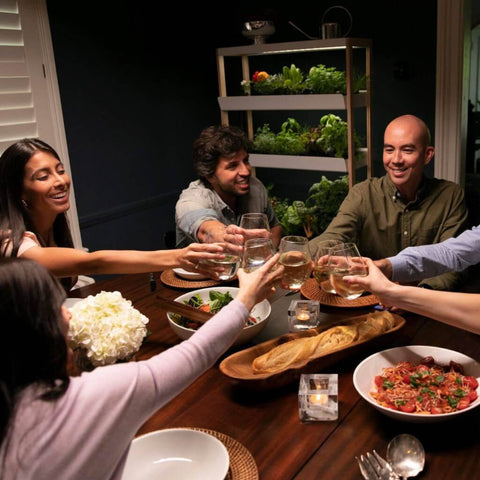 Written by Jamie Crain