On Wildly Delicious Season 2 Episode 4, we're making two delicious spring salads. These two spring salad recipes are easy to make and can even be meal prepped. The lemon parmesan arugula salad can be made in under 5 mins and perfect for breakfast or for a spring brunch salad. The California Cobb Salad takes approximately 30 minutes to make but with a little meal prep, it can be assembled in a few minutes for a fresh, delicious lunch!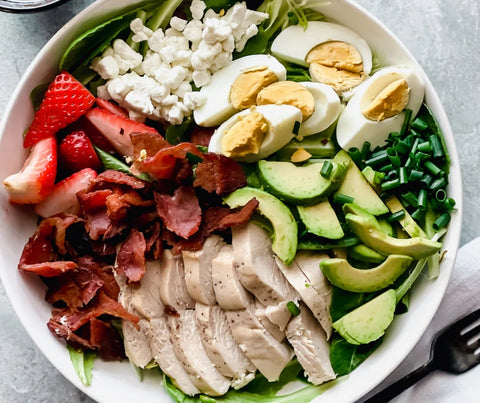 California Cobb Salad 
Serves: 4
Ingredients
Chicken
2 medium chicken breasts
Salt + Pepper
Vinaigrette
1 small shallot, thinly sliced into rings
3 tablespoons red-wine vinegar
1 tablespoon whole grain or Dijon mustard
3 tablespoons olive oil, plus more as needed
Kosher salt and ground pepper
Salad
4 large eggs, hard boiled
8 strips of thick-cut bacon, cooked
2 heads of Paris Cos or mixed greens from your Rise Garden, chopped
1 avocado, thinly sliced
4 oz goat cheese, crumbled
8 medium strawberries, quartered
3 tbsp finely chopped chives
3 oz microgreens
Directions
Step One: Heat oven to 350 degrees. Place chicken breasts on a rimmed, greased baking sheet. Cook the chicken for approximately 20 minutes. Let rest for 5 minutes before slicing.
Step Two: For the vinaigrette, add all the ingredients to a bowl and whisk while the the chicken is baking. Let it rest for at least 10-15 minutes to ensure the flavor has infused.
Step Three: While the vinaigrette is resting and chicken is baking, chop and prep the rest of your ingredients. Cook bacon in a large skillet over medium heat until crispy on both sides.
Step Four: To assemble the salad, place a bed of lettuce and microgreens in each bowl, add the chives, strawberries, avocado, eggs, and bacon on top. Once rested, add the sliced chicken to the salad. Whisk the vinaigrette one last time before adding to the salad.
Enjoy!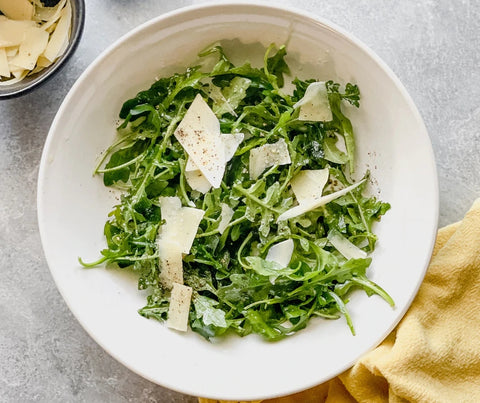 Simple Lemon Parmesan Arugula Side Salad 
Serves: 2 
Ingredients
2 cups arugula
2 oz shaved parmesan
1 oz sliced almonds
Juice from 1 lemon
1/4 cup olive oil
1/4 tsp kosher salt
1/8 tsp pepper
Directions
Step One: Whisk together lemon juice, honey, olive oil, salt, and pepper. Set aside. 
Step Two: In a medium bowl, toss the arugula and the lemon vinaigrette until the arugula is lightly covered. 
Step Three: Add half of the arugula to each plate and top with the parmesan and almonds.
Enjoy!