Yet another challenging year is coming to a close.  As I write this, a surge in COVID infections is giving us all disconcerting flashbacks. Schools are drawing up alternative plans, parties are getting canceled and restaurants are shutting their doors. Mostly, I feel for the kids. I can work from home and know that I'll go back when things calm down. But you cannot get your Senior Year in high school back. No long-term decisions have been made yet regarding in-person learning, school sports seasons or graduations. We lost all of those when my oldest son was finishing high school in 2020. I'm hopeful his younger brothers - and kids everywhere - won't lose another school year.
Being a history buff has helped me maintain some perspective on what we're facing. This pandemic has been devastating to families who have lost loved ones (including my extended family), to our collective mental health, to businesses who had to shut their doors, and to society at large. But we've been here before.  At least this time we're not also facing the horrors of World War I while simultaneously facing the Spanish Flu. I also think of my grandmother, living in the Kansas countryside with no transportation, struggling to provide for her four young children while not knowing if her husband was going to make it back from an expected naval invasion of Japan. I still have her food ration cards and my grandfather's shoulder boards to remind me of their sacrifices.
Certainly humanity has had it worse. I have had it worse. Some of you may have seen my post from last year. I started out 2020 having just lost my wife to cancer and needing to look after three boys while trying to manage a young Rise Gardens. Then the pandemic hit. It was a very, very difficult time. But we made it through. And we'll make it through again. I've had a remarkable year and I'm grateful for the many blessings that have come my way.
The first of those blessings was that I met a remarkable woman, Jacqueline.  She also lost her spouse to cancer so we have shared that awful journey. But we share much more than that - a love of tennis, good food, good wine, travel, entertaining, spirituality and life with young men (she has 2 and I have 3). We met through a mutual friend and started a slow and tentative courtship this past year. It bloomed quickly and we fell in love. Neither of us expected we would feel those emotions again. You can imagine how fraught the emotional landscape has been for us and our boys. Having learned the hard way how short and unpredictable life can be, I decided I didn't want to be apart from this wonderful woman and asked her to be my wife in June of 2021. She said yes!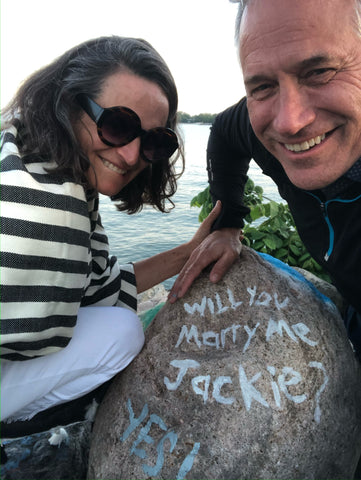 I got it in writing!
Now we are navigating the richly complex world of blended families, wedding plans and who's house we're going to live in (If you pay close attention to our home page you've seen both of our houses and both of us).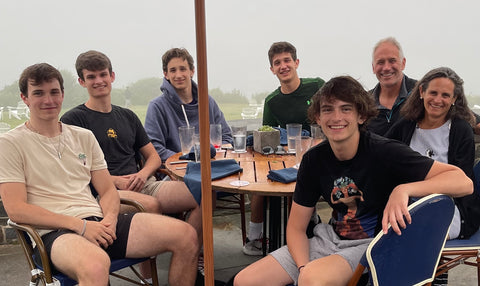 Nicholas Adams, James Henderson, Luca Adams, Peter Adams, Hank Adams, Jacqueline Henderson, Ben Henderson
A couple of weeks ago, my middle son also got accepted into his first-choice college and earlier this year he was runner up in the IL High School state tennis tournament. My youngest son just started high school and is loving it. The two boys are playing basketball on the same team for the first time ever.  My oldest is starting an internship in January through school that he's very excited about. I'm very proud at how they've all adapted so well to what life has thrown at them.  
And Rise Gardens has continued to grow and thrive. We struggled with supply chain issues and transportation headaches like everyone else. But in spite of selling out 4 times, we still grew nearly 400% this year.  
Our vision is to enable a healthier, happier and more delicious world. It is very rewarding to know that we are delivering on that by enabling our customers to grow nutritious produce. We're also working with schools to teach kids to love growing their own food. In planting over 125,000 plants this year, our customers saved 250,000 gallons of water and enough food miles to drive to the sun and back (182M miles)! We also took on some additional investment from a large Canadian investor, Telus Agriculture, as well as adding Listen Ventures to a great group of existing investors.  
The team we have built is really exceptional and we're very motivated to continue delivering on our vision. We have a big year planned for 2022 with new products to further improve what we believe is the best indoor garden system on the market.